did you meet dolly?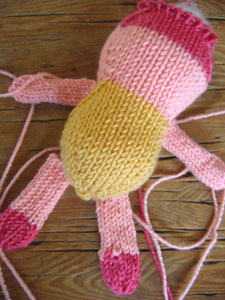 For my little girl on the way, I've started
Jess Hutch
's Dolly pattern (from her now, sadly, out of print knitted toys booklet). I found Classic Elite Bazic in exactly the right colors. Bazic is one of my favorite kids' yarns because it's superwash and comes in all kinds of amazing kid colors! It has been so much fun knitting this little dolly so far. Next up is her cutie patootie little yellow dress.
This is the perfect way to start my girl knitting!
--
Alison