Baby Bolero
Today, I finished blocking the Baby Bolero from One Skein. It was, indeed, knit out of only one skein of my handspun. I had spun up 200 yards of 3-ply, light worsted weight merino/organic brown cotton (50/50 blend called Golden Fleece by New World Textiles), and was a little concerned that I might not have enough. No worries -- I still had maybe 10 yards left when I had cast off. (The pattern calls for a 250 yard skein of Blue Sky Alpaca Organic Cotton in the same color.)
To create this yarn, I spun from the fold, which was the only way I was able to keep a relatively consistent singles. Spinning from the fold is rather easy and almost magical, like it's drafting itself, but the trouble is, you have to keep wrapping new little bits around your finger over and over. I streamlined it a little by ripping off thumb-sized chunks of the roving ahead of time, and keeping them stacked next to me while I spun. I've found that my spinning is much more even when I can keep my rhythm going, and this helped with that some.
Since there is no baby yet to model the knit, I've called upon Purple Bear, who probably has similar measurements to the little person, although certainly better posture.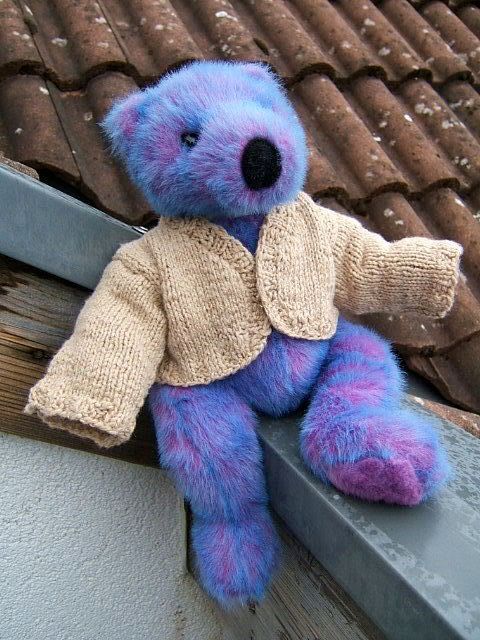 I loved the squishy feel of the three-ply, but the garment softened even more with blocking. Now I want to knit everything out of this blend. If only it wasn't so time consuming to spin!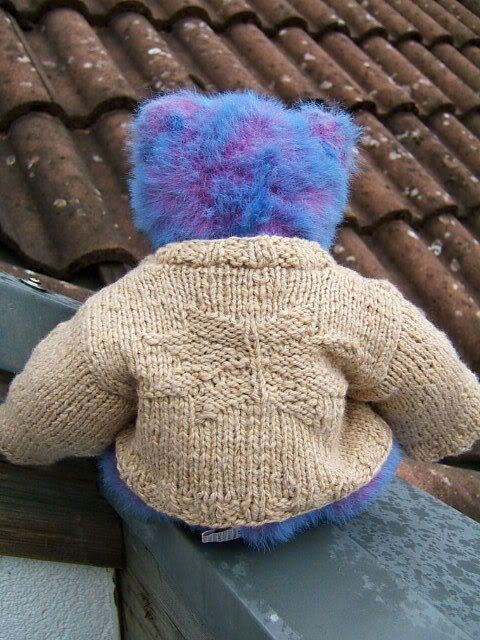 PROJECT SPECS
Pattern:
Baby Bolero from
One Skein
by Leigh Radford
Needles: Knit Picks Options sizes #6 (for the body) and #7 (for ribbed edges)
Yarn:
My own three-ply cotton/merino handspun
Notes:
This was a simple and satisfying knit. Unfortunately, I made my brain work a little more by insisting that first I spin the yarn myself, and secondly that I exchange the eyelet motif on the back for an embossed snowflake instead (modification of stitch pattern from
Vogue Stitchionary Volume 1
). Normally I love tweaking projects to my own specs, but my brain is feeling like so much pudding at this point in the pregnancy. (Three weeks to go!)
Let's go ahead and have one more look at the back, shall we?
Ah yes, this little sweater pleases me much.
Note to baby: Remember what I said about all the projects I was trying to accomplish before you show up? Never mind about all that. You can feel free to say hello to everyone at your earliest convenience. And anyway, your sweater's ready.
More on my blog:
The Needle And The Damage Done