Turtle parade!
As mentioned in my latest
podcast
...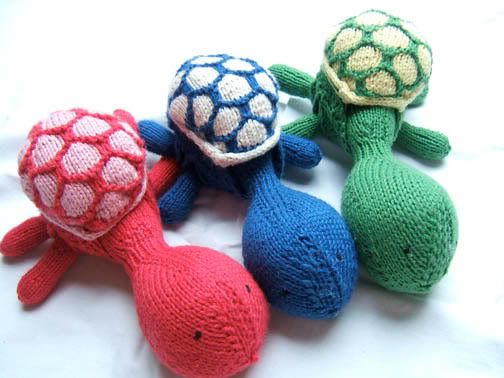 It's a little group of
Sheldons
!
My 3-year-old, Sparky, picked out the color combinations for the blue and green ones, and then I worked up a girly one, just in case Baby #3 happens to be a girl. Also, I just adore pink and red together. Can't help myself.
The 1-1/2 year old (Max) thinks that the turtles are all well and good, but my older fellow (Sparky) adores them and can be found running around with all three at any given moment.
More details at my blog
here
, along with notes that you might want to know if you're going to work up this project yourself.
Oh, also, I really appreciated the
Baby Wear Test
that Elinor just posted here. Very helpful, since I'm always wondering how things will wash and wear with all the abuse they will surely get. If anyone else has any examples of other yarn and knits, that would be wonderful!