all the little knitted things...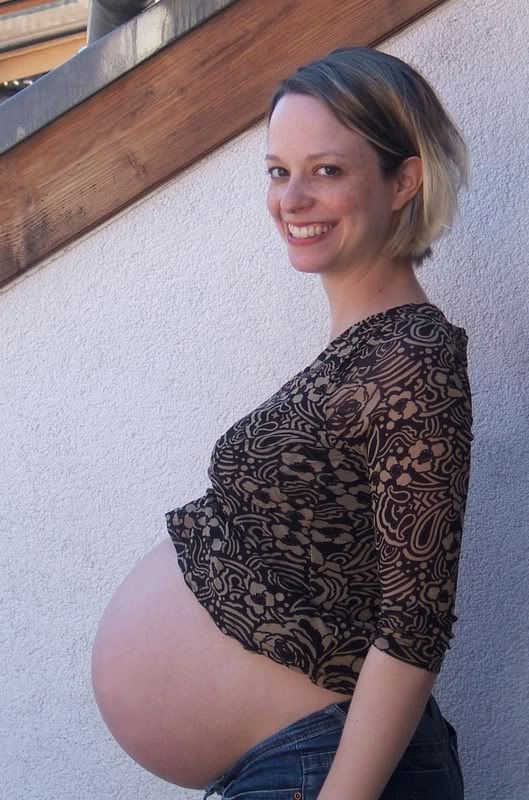 40 weeks today. I was hoping that I wouldn't get to take this picture.

I've been knitting at a frantic pace this week for the baby, and still it does not arrive. I sincerely hope that the little person will show up soon, but in the meanwhile, here's what's been keeping me sane this week (well, not all of it was knit this week, but this is everything that I've worked up so far).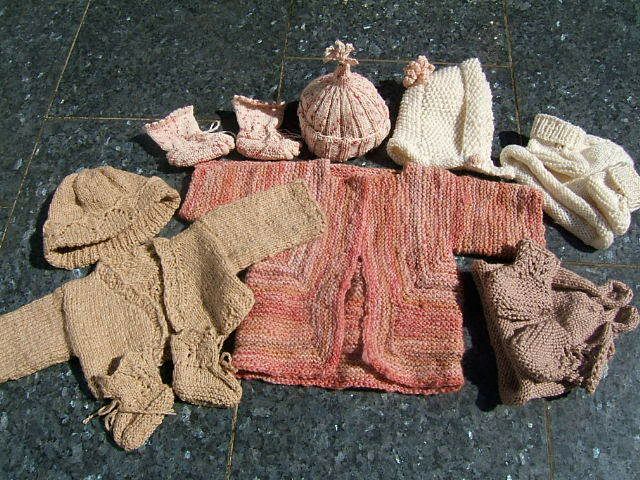 Bottom row from left: Fiber Trends Baby Basics lace edged hat and booties with Baby Bolero (from One Skein) in my
handspun
merino/cotton; Elizabeth Zimmerman's Baby Surprise Sweater in my
handspun
merino; Bunny Ears hat from
Itty
Bitty Hats with
Berry Baby Booties
in Rowan
Cashsoft
DK
Baby.
Top row from left:
Christine's Baby Booties
with Wood Nymph hat (my own design, pattern to follow) in
Regia
Bamboo Color (white/pink tweed, don't remember name); Marshmallow Bonnet from
Itty
Bitty Hats (finally finished it last night!) in Rowan
Cashsoft
DK
Baby, Roll Brim Hat from
Itty
Bitty Hats with rib-cuffed booties from Fiber Trends Baby Basics in Rowan
Cashsoft
DK
Baby.
If you want to see it all in a little more detail, click the picture to enlarge.
Here's a better pic of the pink booties and hat. Now I really want the baby to be a girl so that I she can model these. The point on the top of the hat is all kinds of Dr. Seuss-
ish
, and I almost made more crocheted loops for the top to fill it out, but then I really liked how spindly it looked.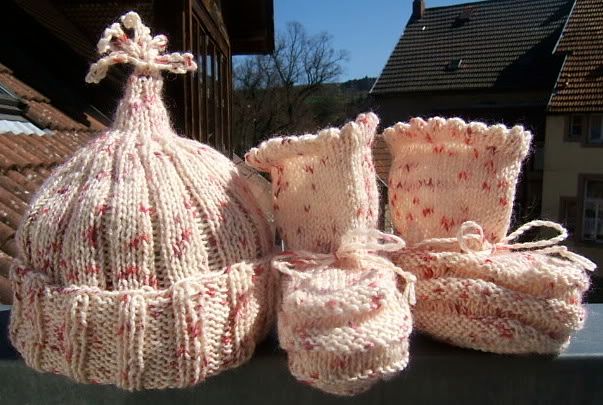 Here's a close up of the back of the Marshmallow Bonnet. The pink things are just Oh My Gosh! I love it.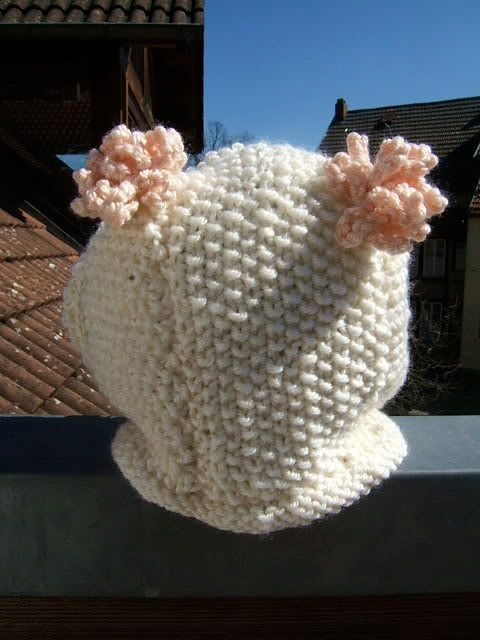 I knit the 6 month size, because it would be just too cute for stroller rides in the fall.
If this baby is a boy, I have a friend who's having a girl in a few weeks, so anything
girly
that I knit will still be well loved and used.
I'll be posting the Wood Nymph Hat pattern soon, so if you want it, check my
blog
later today.