Bootee fever
I've suddenly gotten the urge to create endless baby sets. Here's the first, knit out of my
handspun
Golden Fleece (50% merino, 50% organic brown cotton). It's the same stuff I used for the
bolero
, except this is the two-ply.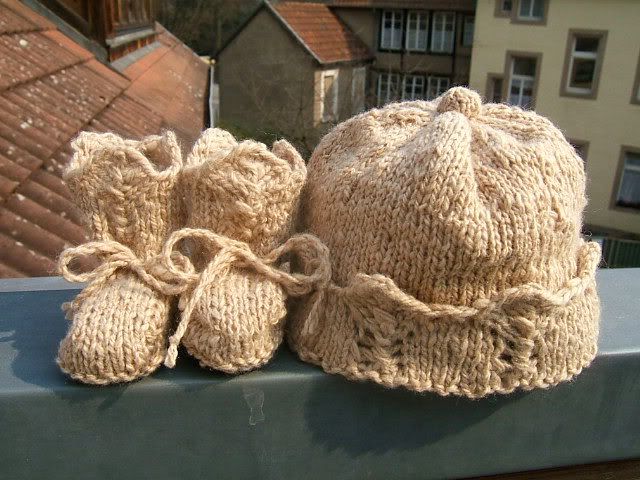 PROJECT SPECS
Pattern:
Fiber Trends Baby Basics
Yarn:
My handspun 2-ply merino-cotton
Needles:
Size 2 Knitpicks Classic Circulars (when knitting with any cotton content, I always have to go down about 3 needle sizes to ge gauge.)
Notes:
Fun to knit. Simple, with just enough "tang" to keep them interesting.
I love the construction of the Fiber Trends pattern. Very satisfying, quick and clever. My favorite part of the hat is the little knitted button on top: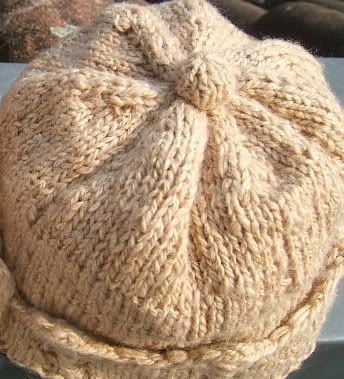 So cute! This hat is knit from the lace brim, then the work is turned around to the "wrong side" and the ribbing is started, then the stockinette and rest of the hat. When everything is completed, the lace is folded up and the right side shows again. Sounds way more complicated than it is -- the directions are very clear (certainly more clear than the way I've just described it!), and it's simple to do.
My only concern with this knit is that the booties are too small. I can't remember if
Sparky's
feet were big or not, but Max's were already too large for newborn sized baby booties when he was born. These have been knit to gauge, but I'm wondering if I should also work up the next size too?
I'm pretty sure that I'll be pregnant forever. With four days left to go, I cannot remember how it feels to be my own person, and have my own body. I always feel this way at this point, so I do realize that the baby must come out at some point, but feeling like a swollen water
balloon
with no ankles, and having sore and achy joints and muscles constantly kind of puts a damper on things.
To show the height of my delusions of pregnancy forever and ever amen, check out what I've printed from online pattern sources:
Those are all
bootee
and newborn sock patterns. How many do you think I'll complete before this baby makes it's appearance? I'm sort of panicking at the thought that this baby might be a girl and therefore won't have any clothes to wear...so I'm knitting pink, purple, red booties. Any and everything
girly
will be on the needles. Currently I'm working up Christine's Baby Booties out of
Regia
Bamboo Color, which I picked up at my
LYS
two days ago.

~The Needle And The Damage Done