A tale of two sweaters
A friend of mine had her second child, a son, last month. They didn't find out the gender beforehand, so last May I started this cardigan for her, on the theory that red would be appropriate no matter what flavor she got.
yarn: Cotton-Ease ("Cherry Red" #113)
pattern: Knitting Pure & Simple Babies Neck Down Cardigan #982
I finished the edges with applied I-cord, planning to put button loops on later ... only to find, when the time came (it's a boy!) that I didn't like the way they looked. So I added ties at the neck and am calling it a day.
I've also started a sweater for our new baby, due in September.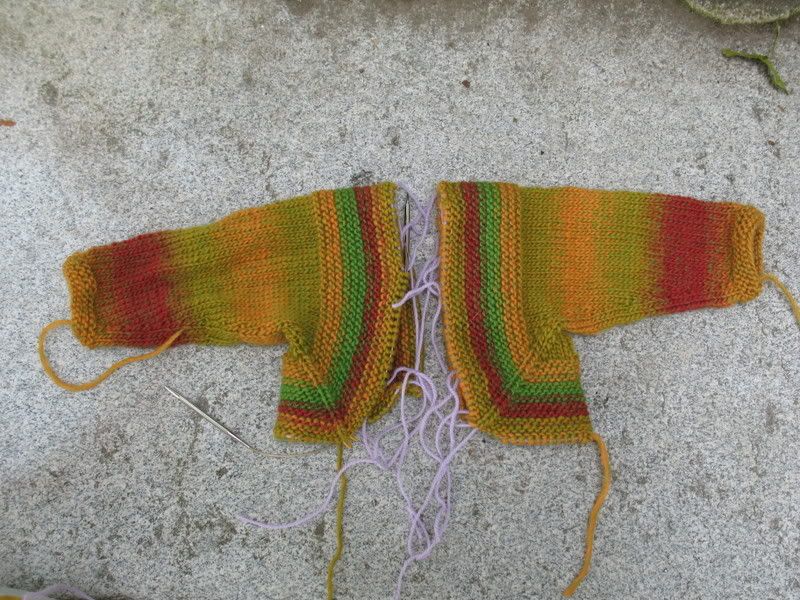 yarn: Nashua Handknits Wooly Stripes ("Key West" #WSO3)
pattern: Babies & Bears Sweater by Cottage Creations
I love the way this version of my standby baby sweater is working up, and contemplated sending it to my friend instead of the red cardigan, until I ran into stitch count issues on both the right and left sides. I'm going to have to put them back on the needles and do some tinking until I figure out where I went wrong (one stitch too many on the right, one too few on the left), and don't want to wait until I've done so to get the new baby's gift in the mail. Besides, I think that it's going to be a great sweater for an autumn baby. So I'm claiming knitter's perogative and keeping it.
I hope to get things back on track later today.