Toddler Skully Sweaters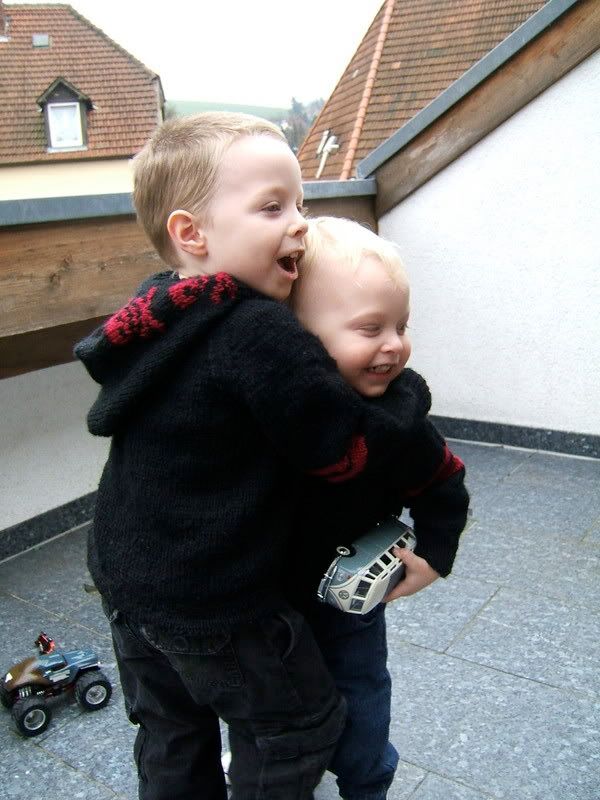 Since I knit that one pink sweater for the little one (who
might
be a girl) still inside, I thought that probably I should also knit a sweater for each Big Brother. Here they are in their matching Skully Sweaters. I used the Wonderful Wallaby pattern, which was lots of fun. It's such a simple knit, and leaves a lot of room for creative additions. These were knit in the 2nd and 3rd sizes, to give my boys a little room to grow. They'll still fit in these next winter, which is key. =)
I will totally knit this again. Once this baby is born and I know what gender it is, I'll pick out appropriate colors.
I had to do some crazy "franken-knitting" of the larger sweater, which taught me a heck of a lot about knitted fabric. It's amazing what we can do with two sticks and some yarn (or four sticks, in this case). You can go to my
blog
to check out more pics and project details if you're interested.
Just purchased the Baby Basics Fiber Trends pattern (found it on sale
here
at Ram Wools. With shipping it's just over $5). I'll spin up some creamy white Merino in the next few weeks for that. Pefect fit for
Project Spectrum
!