For Our First Grandchild
I finished this baby set quite some time ago but was waiting until I had matching booties made before photographing and blogging about it.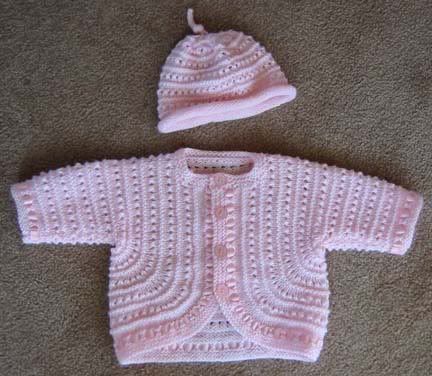 This set is for our first grandchild,
due in March
. As you can see there are no booties. I have decided to wait until the baby fits the sweater before making the booties. There is a bit of a story in that:
A couple of years ago (has it really been
that
long?!) I made
this set
twice
, once for each of
two grandnieces
, and included booties I had designed to match. Not having had babies around for over 20 years, I was a little out of touch with how big the babies' feet would be when they were large enough to wear the sweater (a "six month" size), and the booties apparently fit far sooner than the sweater. On the other hand, I also designed the little hat and it fit at the appropriate time.
Here you see the new set modeled on a baby doll.