sock yarn seeks sweater pattern
My sock yarn stash has gone pink! It's hard to admit, but I don't need that many pairs of pink socks.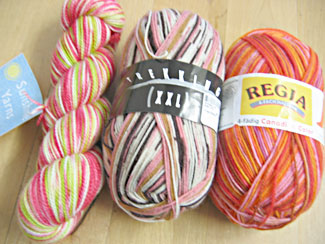 All this pink sock yarn would be great on a little baby girl though. And since wee one on the way won't have fifty pairs of feet, I'm thinking sweaters.
Soooo, I'm on the hunt for little baby sweater patterns that I can make with about 400 meters of fingering weight yarn. I'm not really in love with the sweater patterns that are specifically written for sock yarn (like
"the" Opal baby sweater
). I may make one of those, but I'm really looking for pretty, simply constructed sweaters that would be fabulous in a lovely variegated yarn (more like
the garter stitch baby sweater I knit for wee one
or
MamaK's beautiful Koigu Baby Surprise Sweater
).
Any suggestions??
--
Alison