must. make. this.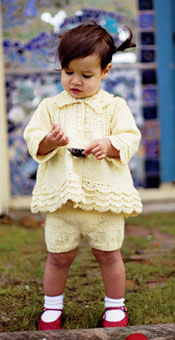 Have you seen this beautiful pattern in the
Fall 2006 Interweave Crochet mag
? I'm totally obsessed with it. I suspect that my crochet skills aren't up to it (and I know that my crochet pattern reading skills aren't up to it!), but still, I gotta make it! It looks so cute on the toddler in the picture, so I think I'll give myself a year until the baby is vertical and I can work up the courage and the skills. Then I gotta do it!!
If anyone gives this pattern a try, please let me know how it goes. I'd love to hear any tips and see pics.
--Alison