Rainbow Adult Socks, and 2 Pairs of Baby "Mini-Mes"
Rainbow Socks
Knit with size O needles
Trekking XXL superwash sock yarn
and
Wendy Knits'
Free Toe-up Sock Pattern: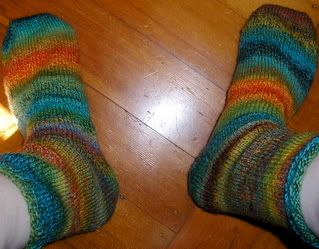 (Note: I'm in my eight month of pregnancy, or 7.5 months depending upon who you ask and how you count it, so, as with shaving my legs in the shower, a certain degree of "prenatal yoga" was a necessary prerequisite to obtaining these photos of my feet.)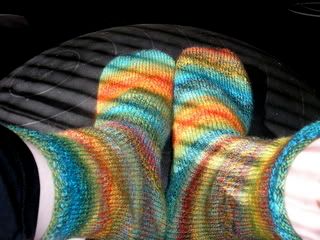 My feet up on the "Birth Ball"
The "mini-me" baby socks I made with the same yarn, modeled on my pregnant belly ball, with the birth ball in the background: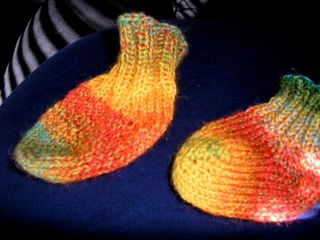 I used
the same pattern
, but altered it to make it newborn size by cutting the stitch count, more or less, in half, while maintaining the mathmatical ratio, and shortened the length quite considerably.
(For example, in the adult version, the toe width is 15 stitches at the very top, half of the sock's circumference is twice that, 30 stitches, so the sock's body and ankle has a circumference of 60 stitches. Instead of being 60 stitches around, the baby socks are 32. Instead of casting on 30 stitches for the adult version, I cast on 16 stitches for the baby socks, made the toe width 1/2 that; 8 stitches, and the circumference 32.)
I'm making it sound way more complicated than it actually is.
I'm sure
Wendy
would describe my adaptation of her pattern better than I have. I have found her pattern directions to be very clear. Maybe I should email her what I did in case she wants to translate a pattern for baby toe-up socks better than I have. (As if she doesn't have enough to do with all the complicated projects she has going on at any given time. Have you seen how fast that woman whips out her knitting projects?! It's pretty impressive.)
But, in the meantime, that's how I made the baby "mini-me" socks, in case you want to make some of your own. They're fun. They take very little yarn to knit up and knit up very quickly.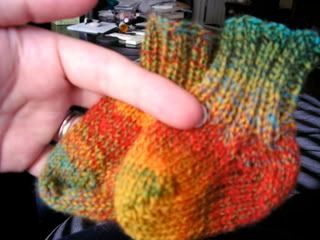 And here's another pair I made with some left-over sparkly superwash sock yarn.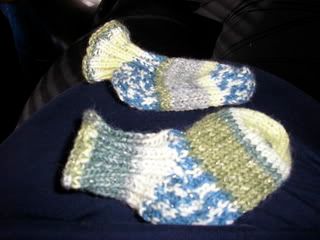 I don't remember who makes this yarn, I think it's Opal sock yarn, but that's just a guess. I had some leftover from a pair of socks I made over a year ago and didn't save the label. The yarn has glittery sparkly bits in it that are a little scratchy, but still pretty soft.