just plain vanilla booties
I haven't worked out yet whether these are going to be for my baby or some other baby. I have two colleagues expecting babies - one any time now and one in December. These booties will just go into my bag of knitted baby things and I'll work out who tehy are for later, I guess. I have not added the ribbon ties yet as I don't know whether to use cream ribbons or another colour.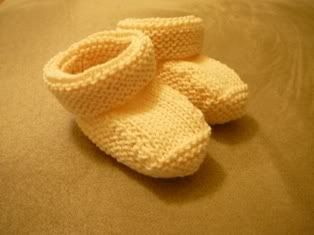 The pattern is a modification of one I found in an old Patons booties booklet which I bought ages ago on Ebay. Probably the best $2 I ever spent seeing as I have made many pairs of booties from this booklet.