Long time no post..
I have been busy with the little man..well, that's my excuse anyway.
I haven't knitted much for him as the weather is so HOT at the moment and he is growing faster than I thought possible. At 11wks, he has nearly doubled his birth weight! the only thing I have made him are these pants: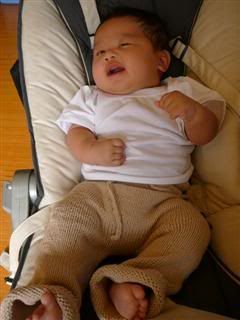 I think they are so cute. I am actually considering making another pair for him.
The pattern is from Last Minute Knitted Gifts and it's the "drawstring pants". I used about 1 3/4 balls of Hayfields Cotton Rich from my stash to knit it in the second size. It's in a neutral tan/beige-ish sort of colour.
I am now thinking of knitting a pair for him in wool for the coming winter.
Celia