A couple hats in a couple days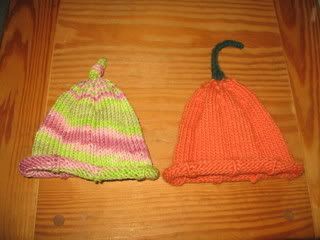 Unfortunately, my son has been to the hospital quite often in the past few days (he was born with some kidney problems), but, on the positive side, the waits at the hospital have given me some time to knit. (By some I mean long, long hours.) I had to make the babe a pumpkin hat to go with his hallowe'en costume. The other hat is for a friend who just had a 10 lb baby girl.
The pattern for the pumpkin hat, if anyone is interested, is from: http://www.knitlist.com/97gift/pumpkin.htm
I used Lamb's Pride for the hat and it fits my 4.5 month old son perfectly.